Our clients & testimonials
Meet our terrific clients
"Having the leadership team think about how to structure the message and how to tell business stories that are going to engage people is a huge benefit. It's so much about how you take people on a journey… What's great is that people can connect themselves personally into the story."
"IT isn't well understood… We need to do a better job telling the rest of the business how we're here to enable them… Storytelling makes you more rounded. You can never communicate enough and storytelling is a great vehicle to achieve this. I would absolutely recommend it. How you position the message and story gives you confidence and [brings] clarity for the audience."
"The program ticked a lot of the boxes. The way you worked with us to understand what's relevant to IAG: the pain points and that up-front consulting piece – all credit to you – helped crystallised the approach. The workshops were not off the shelf but tailored to our teams [who] now have a sense of connectedness."
Here's how storytelling programs can help you
Align leaders & engage teams
Capturing its inspirational story
Established in 2017, WooliesX  brought together food, digital and data, to create a new business within Australia's largest retailer, Woolworths.
Two years later, as WooliesX was growing fast, with a workforce of over 1,000 people, Managing Director, Amanda Bardwell, wanted to capture its inspirational story. It was timely to celebrate their successes while bringing to life their forward-facing strategy and vision.
Wordstruck worked with Amanda, her leaders and comms team, to develop the WooliesX Story, and delivered it to 120 leaders during their quarterly leadership day.
"Your presentation was voted the most popular session of the day. I received many comments from team members about how valuable they found it. Thank you," Amanda Bardwell, Managing Director, WooliesX
"It was a leadership trophy  moment!"
Lane Crawford is a 170-year-old luxury department store, with a distributed workforce across Hong Kong and China. 
President Andrew Keith believed a strategic narrative approach would help "achieve alignment" across his leadership team and other stakeholders.
In 2019, Wordstruck worked with Andrew and his team to develop the Lane Crawford Story 1.0. A graphic illustrator brought the story to life. "The visual was super important," says Seow Ping Tan, Vice President, Retail. "It gave consistency to the message."
A year later, Lane Crawford Story 2.0. was co-created. Due to the Covid19 pandemic, the entire program was conducted remotely.
Despite face masks and lockdown,"We delivered the strategic story and plan at a time when the business was most disrupted," said Andrew Keith. "But we got really positive feedback. One director said it was the clearest, most exciting plan and story they'd seen in 10 years. It was a leadership trophy moment!"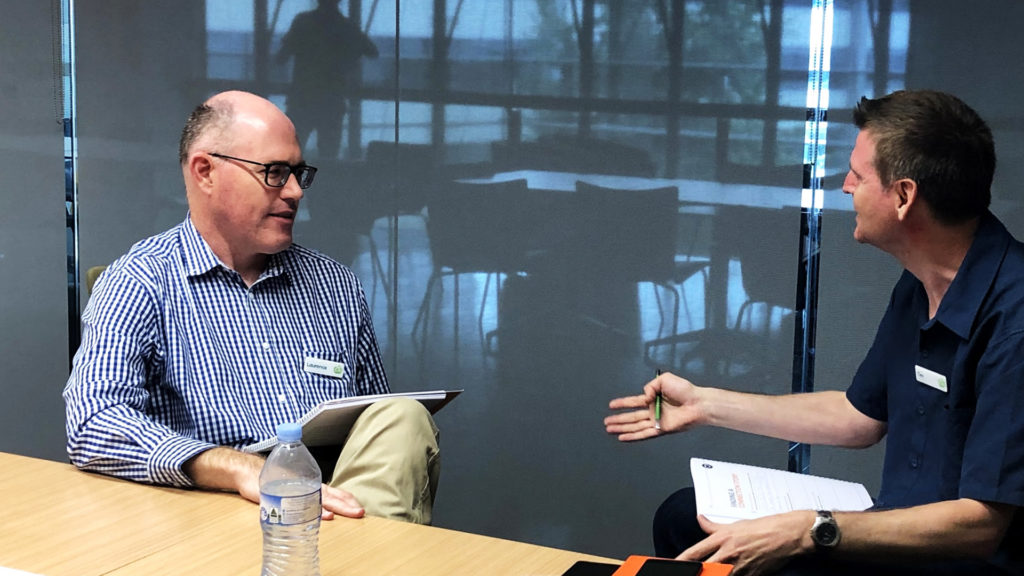 Storytelling generates "quicker emotional investment"
"Telling and framing through stories is pivotal to bring the business on the journey. [It allows them] to understand IT's capabilities and strategies, while also educating them to identify further opportunities through technology" explains Woolworths (WOW) Chief Information Officer, John Hunt.
In 2019, over six months, Wordstruck worked with the WOW IT leadership team during a specially tailored program. Doing the program as a team, says John, "helped to keep us honest. You learn from each other. "
Tim Kelly, General Manager – CIO Officer, found storytelling helpful when speaking to "large scale all of IT communications' sessions" noticing that engagement and interest levels went up. Stories "generated a quicker emotional investment."
For Laurence Bennett, General Manager IT – Enterprise Information Technology, the idea of using stories was quite novel. "It has been very enlightening for me… I have definitely used a number of stories both professionally and personally since our workshops. Thank you for your facilitation, insights and input."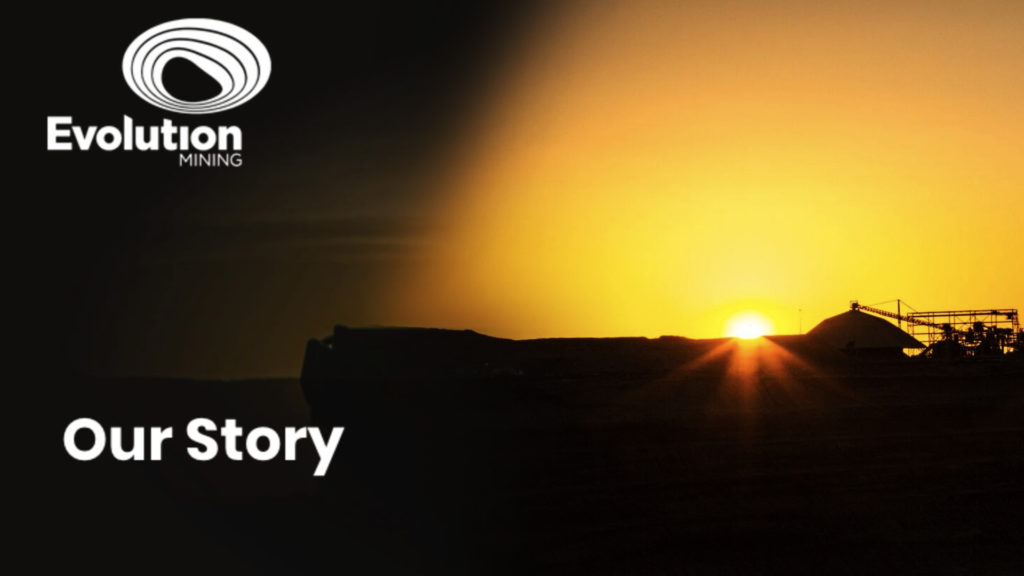 "The story helped create a sense of connectional alignment [and] pride"
Evolution is an Australian mid-tier gold mining company established in 2010. The value of capturing its unique Founding story was increasingly recognised.
"Evolution grew rapidly and we wanted to stay true to the strengths and points of difference that enabled our success. Sharing our Founding story helps people quickly understand who we are, creating a sense of connectional alignment [and] pride," explains Anika McManus, former Group Manager – External & Indigenous Relations, who initially drove the project, and who is now Director, Corporate Affairs, Environment & Sustainability APAC – Graymont. 
"It is also important for attracting talent in a competitive labour market and helps build and strengthen the relationships that underpin our social licence."
In late 2018, Wordstruck assisted Anika's team to capture over 20 stories from across the organisation.
Together these many story strands were woven into a single powerful story. This has been shared widely across the company, including on the company website, marketing collateral and in presentations by investor relations.
"I really enjoyed working with Claire," says Anika. "She took the time to understand our needs, applied her insight for a better outcome and was adaptable throughout the process."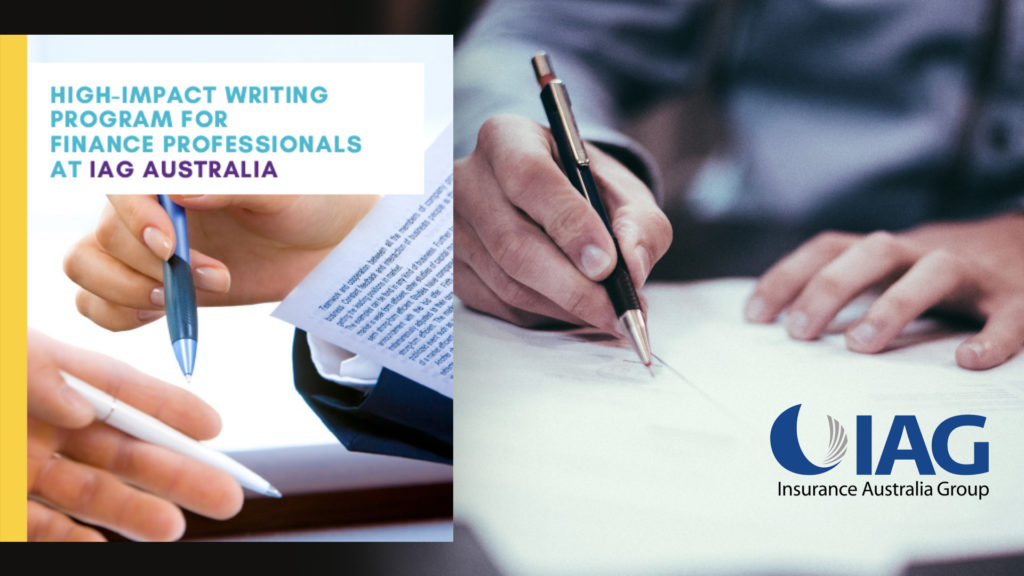 From functional support to business advisors
In 2018 the IAG finance leaders wanted a customised program to support their people to become better storytellers and harness the power of the pen. 
As a finance team, they were used to delivering data-heavy powerpoints and offering advice through number-rich reports. While this provided senior management with trends and finance patterns, further work was needed to help them communicate the impact of the data. 
Wordstruck worked closely with IAG finance to co-create their unique Business Writing Program. "It introduced best practice, do's and don'ts," explains David Karczor, Change Management Practitioner at IAG. "It gave a common framework… which was not just off the shelf but tailored to make sure that it introduced things we wanted to stick."
The program, which ran over 6-months, had both face-to-face workshops, written exercises and personalised coaching elements. "The workshops were set up really well," David continues. "We now have a repeatable method and template for reporting our financials. [The program] has enable the team to do more upfront thinking so they ask, "what's the story here?" That's helping us as a team."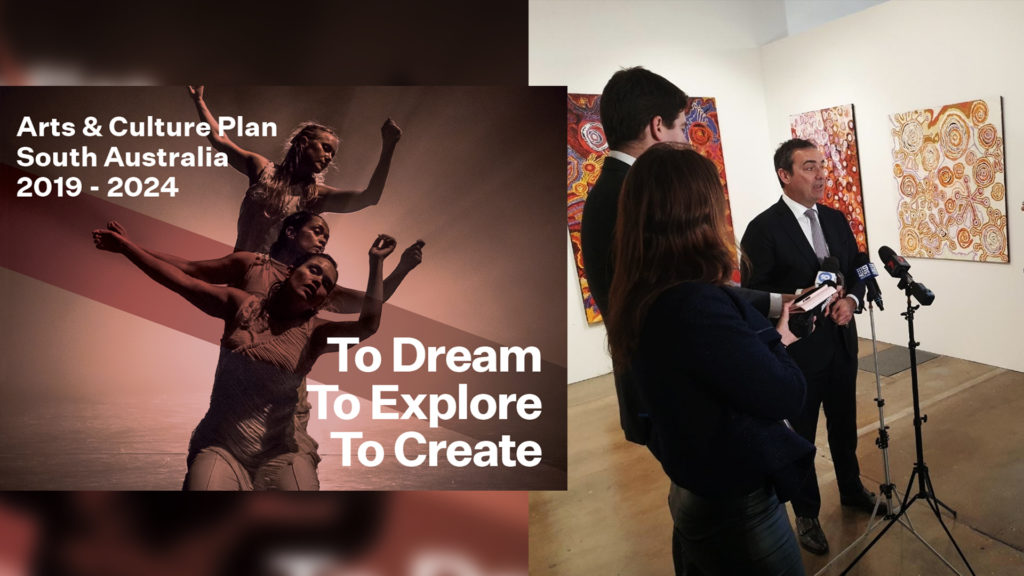 South Australia Arts Plan
A narrative giving shape to 2,500+ voices
In 2019 the South Australia government, under Premier Stephen Marshall, commissioned a team of consultants to develop its first state-wide Arts Plan in nearly twenty years. Co-led by Tony Grybowski, former CEO of the Australian Council, and strategic consultant, Graeme Gherashe, the six-month consultation process engaged with over 2,500 people through live meetings, focus groups, town hall style meetings, an online survey and written submissions.
Previously, state arts plans focused on strategies to support artists and the broader sector, rather than develop a unifying narrative to underpin the approach. However, in this case, Claire/Wordstruck was brought into the team as the lead narrative consultant.
Her role was to help South Australia author a bold new story that is uniquely its own. In the final SA Arts Plan this invited, "Every South Australian, and every visitor to the State, to see themselves as part of this grander narrative… and part of a much larger storied landscape – one that stretches back not two centuries, but sixty-five thousand years."