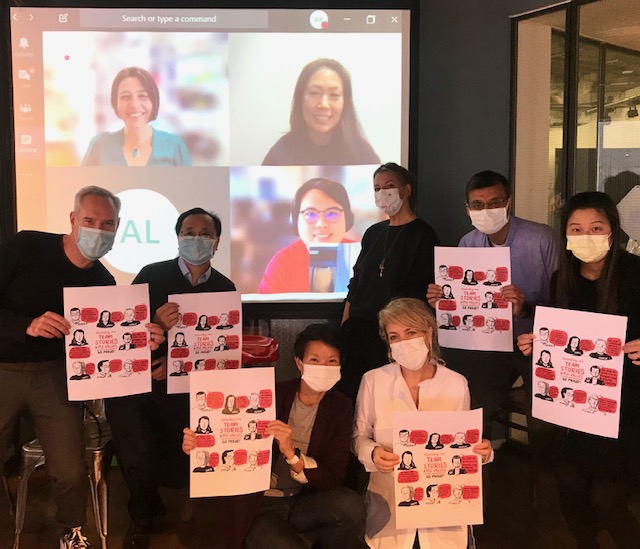 If you'd asked me three months ago how I'd run a strategic storytelling workshop, remotely, with eight out of nine of the group wearing face masks, during a global pandemic, I would have said it was impossible. But this photo is evidence it can be done. What's more the group's "trophy stories" were brought to life by a graphic illustrator ( Eliot Lee,  in red, bottom right). 
That workshop, the culmination of 4+ months working with the president and leadership team at the luxury retailer Lane Crawford  was a pivotal moment for me. 
When the graphic of the trophy stories was revealed there was a collective outburst of laughter, recognition, joy. The power of stories + image + surprise was palpable from where I sat in my office in Sydney. 
It was a kind of… anything is possible moment…
A let-me-get-out-of-my-head kind of moment. I think we're all having a lot of them right now. 
Taking a risk 
Lane Crawford, a heritage luxury department store, with a distributed workforce across Hong Kong and China, is rapidly becoming an industry leader in responsible fashion. 
In 2019 I worked with President Andrew Keith and his leadership team to help them develop their Story 1.0. that brought to life their strategy. Andrew and his team see storytelling as pivotal in how they show love and share the love with their customers. This year, we co-created Story 2.0.
During a time of immense disruption, this helped bring alignment and a sense of excitement to the organisation.   
The experience of working with them has helped shape how I want to work. And I'm excited to share what that looks like when I soon reveal my new Wordstruck website — with a new suite of storytelling programs. 
Even if I don't fully know an outcome, it's about finding other ways to introduce an element of spectacle, playfulness and spontaneity to how we communicate. This is especially needed in Zoom after Zoom meeting where things are in danger of becoming one-dimensional. It's about creating deeper connection and taking a risk. 
Seizing the moment
Like any company's story, Lane Crawford's journey is evolving at pace. This year it celebrates 170 years in business. Yet, the fashion industry is embattled right now: consumer spend is down, stock languishes in warehouses, buying teams can't travel and fashion shows are going "phygital". 
Last week, Andrew Keith, together with designer Dries van Noten and Altuzarra chief executive Shira Sue Carmi called for change. They published an open letter to address one of fashion's systemic issues — discounting in the middle of the season rather than at the end. They hope it will shift the global industry to a more environmental and socially sustainable approach. 
In less than 2 weeks, the letter has attracted over 1000 signatories, garnered  global press coverage,  and triggered a "rewiring" of the industry by  Business of Fashion.
Aside from the importance of the initiative and the courage to make it happen, what I appreciate — from a comms perspective — is that the group didn't have all the answers. But they acted anyway. 
We are witnessing that a lot. Politicians are creating policies on the hoof, business leaders are moving entire workforces to digital in a matter of days. Sure, there are wobbly moments, but this galvanising to make things work is so refreshing. 
So what happens when you don't know the full story? 8 things to do anyway. 
1. Meet people where they are at. We've got a scripted speech and yet when we stand up, we forget to read the mood. 
2. If you don't know the mood, check in. Ask. Openly or offline. 
3. Then when you know the mood, meet people there. 
4. Say upfront you don't know the full story. That the story is evolving. That you'll keep people updated. 
5. Show how that makes you feel. Butterflies? Anxious? Excited? Reveal your vulnerability about not fully knowing. 
6. Explain some of the process of how you made the decision. Even if you didn't have all the facts to hand. 
7. If someone asks a question and you don't know the answer. That's okay. Answer as best you can, take the person's name and get back to them. 
8. Recognise that if you don't know the full story and there's a vacuum, people will fill it with their own stories…

So don't wait. 

I'm not going to either. I'll be sharing more about my Wordstruck website relaunch very soon!